Shopping for food online has gotten more and more popular over the last few years. Both when it comes to ready-to-eat meals and groceries, Europeans are increasing their spend and their frequency of use of
dedicated online services.
For this reason we asked our large community of mobile users to tell us more about their purchasing habits when it comes to buying food and groceries on the web. Curious to learn if they shop differently and how? Read all the findings in this Consumer Report.
READY-TO-EAT MEALS ARE THE MOST BOUGHT FOOD ONLINE
When it comes to purchasing food online, 41% of Europeans state to buy only ready-to-eat meals. Another 27% purchases both groceries and ready meals, while a considerable 24% buys neither of them. Among those, Italian and French consumers seem to be the most reluctant ones, with respectively 40%
and 30% of negative answers.
Do you buy food online?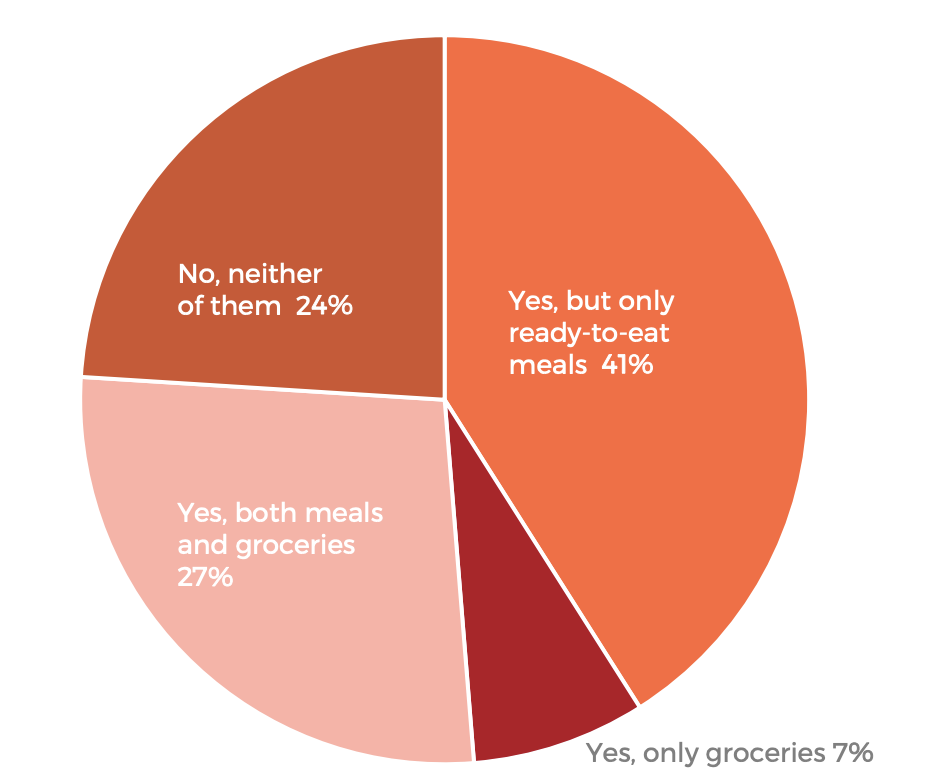 WHY NOT?
Among the 24% of Europeans who do not purchase food online (neither groceries nor ready-to-eat meals), the majority states to prefer doing groceries directly in-store (55%) and to enjoy cooking (52%).
Why don't you buy food online?

READY-TO-EAT MEALS ORDERED MONTHLY
24% of Europeans purchase ready-to-eat meals on a monthly basis. "Every two weeks" (20%) and "weekly" (18%) are amongst the most popular choices. Another considerable part of Europeans (20%) instead opts for them less than monthly.
How often do you order ready-to-eat meals?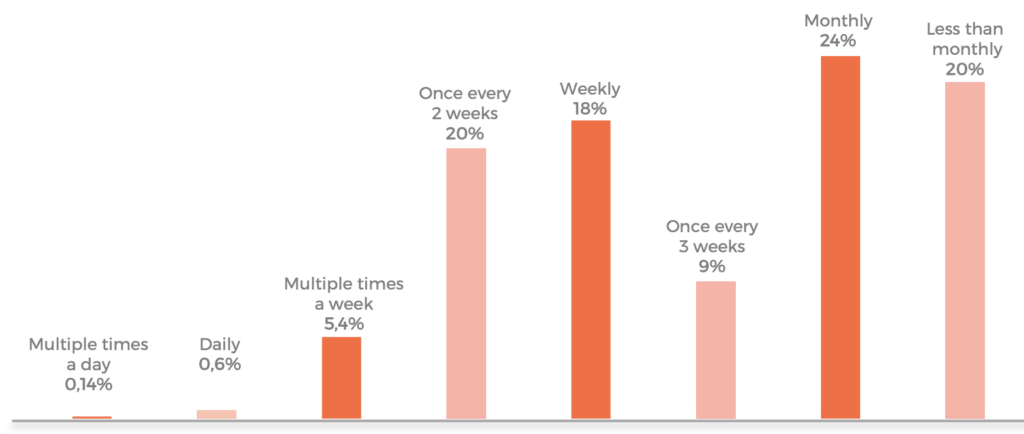 Fun fact
French (8%) and British (9%) consumers are more prone to order multiple times a week.
WHEN AND HOW DO WE ORDER?
For most Europeans weekends are the best times to purchase ready-to-eat meals. The orders are mostly placed through dedicated mobile apps and mobile websites.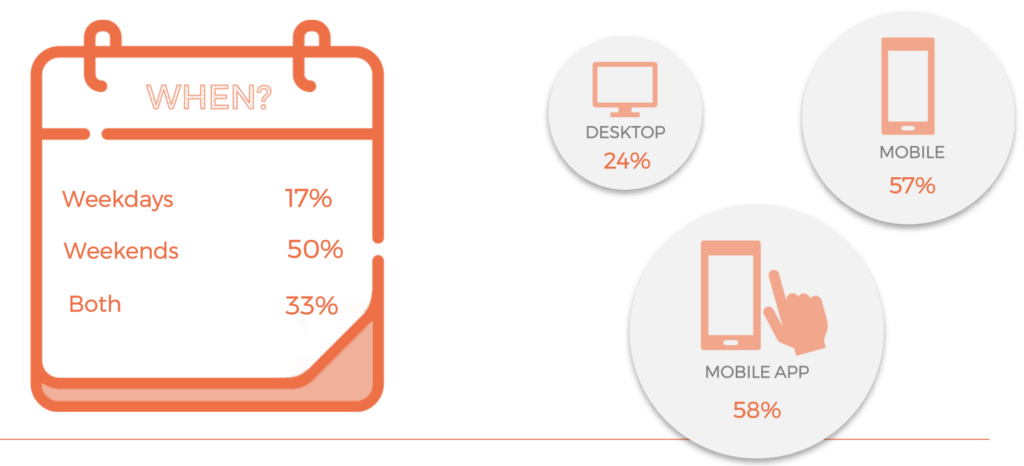 HOW MUCH DO WE SPEND?
For each delivery most European consumers (43%) are willing to spend between 10 and 15 euros per person. Meeting the minimum spend to get a free delivery is considered by nearly 10% of shoppers. This percentage increases to 24% in Spain.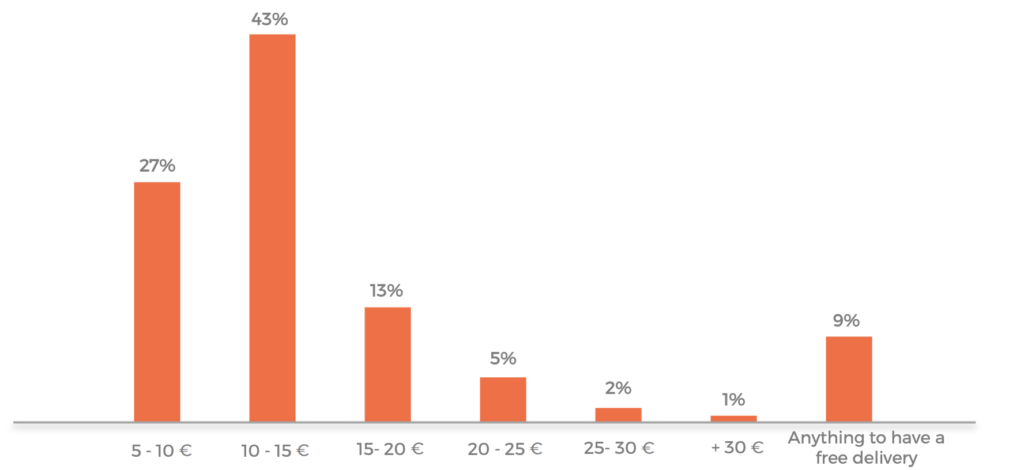 HOW ABOUT ONLINE GROCERY SHOPPING?
Most Europeans (64%) buy groceries online on a monthly basis from more supermarkes (55%). 74% states to visit physical supermarkets just as much, while the remaining 26% visits them less often.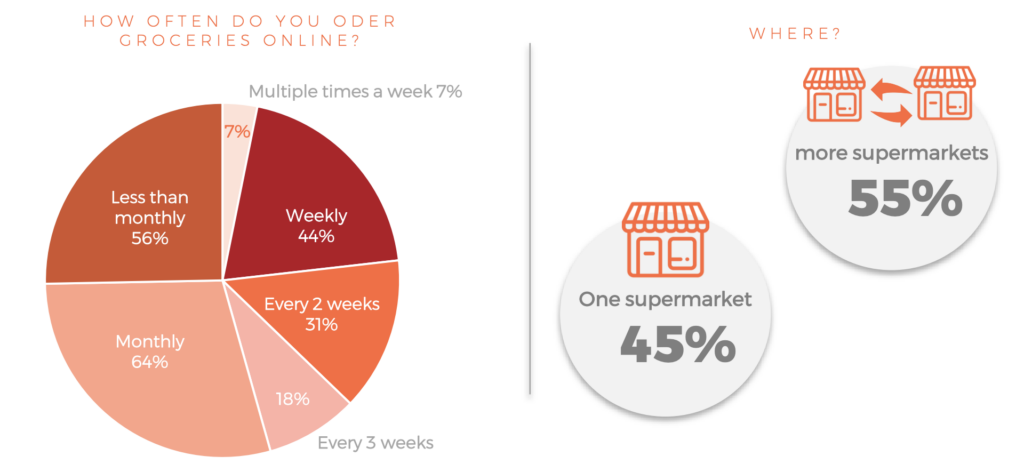 HOW AND HOW DO WE ORDER GROCERIES?
Most Europeans prefer to shop for groceries online during weekdays, browsing websites on desktop (45%) or through dedicated mobile apps (43%).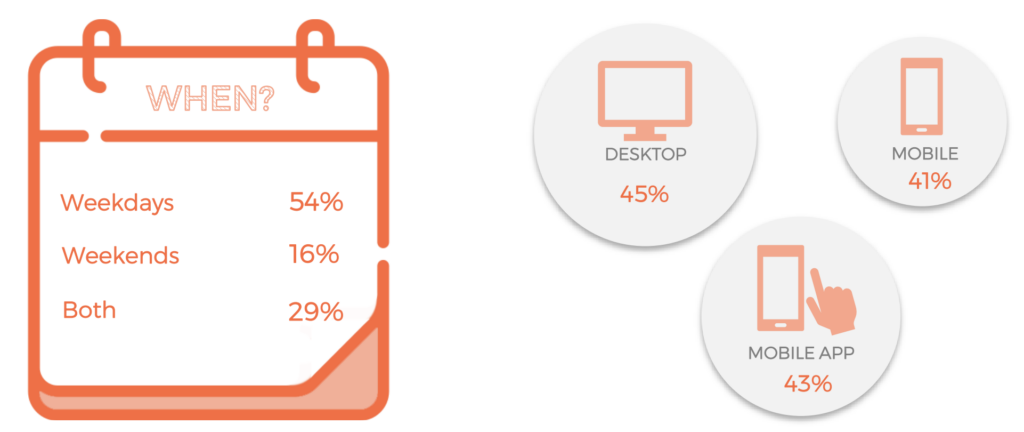 SHOPPING DIFFERENTLY ONLINE
About 71% of consumers state to do their groceries differently when shopping online.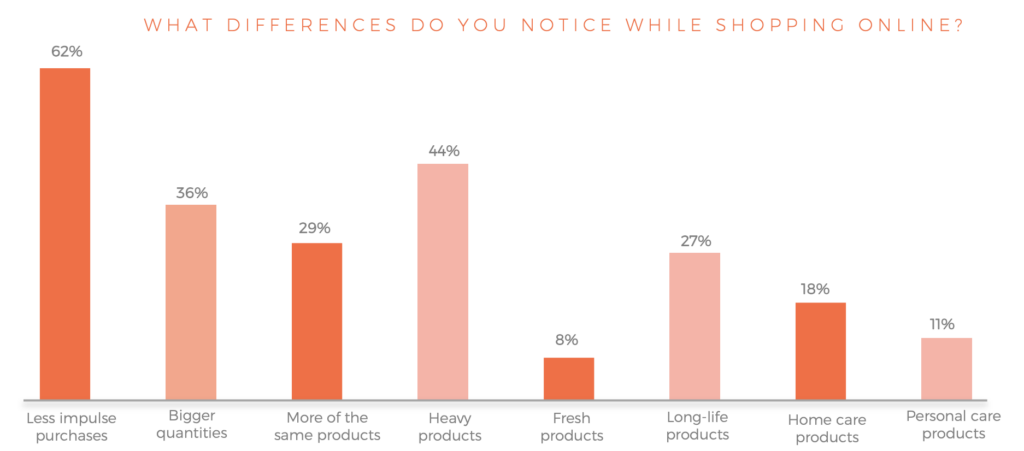 The findings presented in this report are based on the results of an investigative task submitted to the Roamler Crowd during the month of March 2020. The purpose was to determine the crowd's purchasing
practices when it comes to online food services. The findings take into account data collected from 6.578 respondents, located in the UK, Italy, France, Spain, Belgium, The Netherlands and Germany.