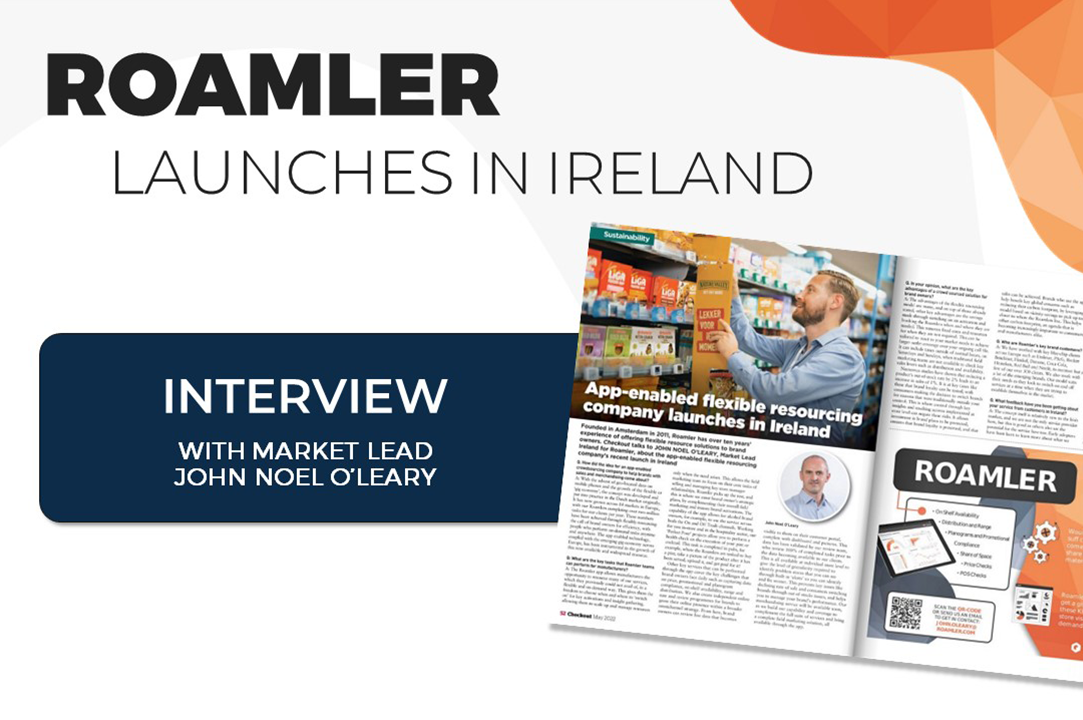 Checkout Magazine talked to John NOEL O'LEARY, market lead Ireland for Roamler, about Roamler's recent launch in Ireland.
How did the idea for an app-enabled crowdsourcing company to help brands with sales and merchandising come about?
With the advent of geo-located data on mobile phones and the growth of the flexible or' gig economy', the concept was developed and put into practice in the Dutch market originally. It has now grown across 14 markets in Europe, with our Roamlers completing over two million tasks for our clients per year. These numbers have been achieved through flexibly resourcing the call of brand owners for efficiency, with people who perform on-demand tasks any time and anywhere. The app enabled technology, coupled with the emerging gig economy across Europe, has been instrumental in the growth of this now available and widespread resource.
 
What are the key tasks that Roamler team scan perform for manufacturers?
The Roamler app allows manufacturers the opportunity to resource many of our services, which they previously could not avail of, in a flexible and on-demand way. This gives them the freedom to choose when and where to 'switch on' for key activations and insight gathering, allowing them to scale up and manage resources only when the need arises. This allows the field marketing team to focus on their core tasks of selling and managing key store manager relationships. Roamler picks up the rest, and this is where we enter brand owner's strategic plans, by complementing their overall field marketing and instore brand activations. The capability of the app allows for alcohol brand owners, for example, to use the service across both the on and off trade channels. Working for you in-store and in the hospitality sector, our 'Perfect Pour' projects allow you to perform a health check on the execution of your pint or cocktail. This task is completed in pubs, for example, where the Roamlers are tasked to buy a pint, take a picture of the product after it has been served, upload it, and get paid for it!



Other key services that can be performed through the app cover the key challenges that brand owners face daily such as capturing data on price, promotional and planogram compliance, on-shelf availability, range and distribution. We also create independent online rate and review programmes for brands to grow their online presence within a broader omni channel strategy. From here, brand owner scan review live data, prior to being validated by our review team, who review 100% of completed tasks. The data then becomes visible to clients on their customer portal, complete with dashboard and pictures. This is all available at individual store level to give the level of granularity required to identify problem stores that you can see through built in 'alerts' so you can identify and fix sooner. This prevents key issues like declining rate of sale and consumers switching brands through out of stocks issues and helps you to manage you brands performance. We will soon have the merchandising service available, as we build our capability and coverage to compliment the full suite of service and bring a complete field marketing solution all available through the app.
 
In your opinion, what are the key advantages of a crowd sourced solution for brand owners?The advantages of the flexible resourcing model are many, and on top of those already stated, other key advantages are the savings made through switching on an activation and booking the Roamlers when and where needed. This removes fixed costs and resources for when they are not required. This can be tailored to react to your market needs to achieve larger outlet coverage over your ongoing call file. It can include out of normal hours on Saturdays and Sundays when traditional field marketing teams are not available to check key sales levers such as distribution and availability. Numerous studies have shown that reducing a product's out-of-stock rate by 2% leads to an increase in sales of 1%. It is at key times like these that brand loyalty can be tested, with consumers making the decision to switch brands for reasons that were traditionally outside your control. This is where control through key insights and resulting actions implemented at store level can negate these risks. It allows investment in brand plans to be protected, ensures that brand loyalty is preserved and that sales can be achieved. Brands who use the app help benefit key global concerns such as reducing their carbon footprint, by leveraging a model based on vicinity savings to pick up tasks closer to where the Roamlers live. This helps offset carbon footprint, an agenda that is becoming increasingly important to consumers and manufacturers alike.
 
Who are Roamler's key brand customers?
We have worked with key blue- chip clients across Europe such as Unilever, P&G, Reckitt Benckiser, Henkel, Danone, Coca-Cola, Heineken, Red Bull and Nestlé, to mention but a few of our over three hundred clients. We also work with a lot of the emerging brands. Our model suits their needs as they look to switch on and off services at a time when they are trying to establish themselves in the market.
 
What feedback have you been getting about your service from customers in Ireland?
The concept itself is relatively new to the Irish market, and we are not the only service provider here, but this is good as others also see the potential for the service here too. Early adopters have been keen to learn more about what we offer and how we can benefit their strategic plans for scaling up on demand in a fast-paced environment. Our model allows them to meet their challenges with efficiency and speed and to get quick insights to help them react accordingly. Others can see the benefits of using the service as part of their wider strategy at key seasonal times.


What makes the Roamler portfolio of services unique in the Irish market?
Apart from the technology and fluidity of people that we have available to us, the key learning from talking to clients has been the way the Roamler model complements an existing field marketing structure. We do not necessarily replace them, we complement them by taking on a resource, so brands can spend only when they require it to scale up and cover the tasks they need as opposed to keeping resource costs fixed throughout the year. This is where the demand flexibility comes in to help brand owners control spend and reduce costs. If I were to summarise what makes the service unique, and how we benefit brand owners, it would be that we offer ultimate flexibility with speed to action and immediate cost savings while reducing your carbon footprint.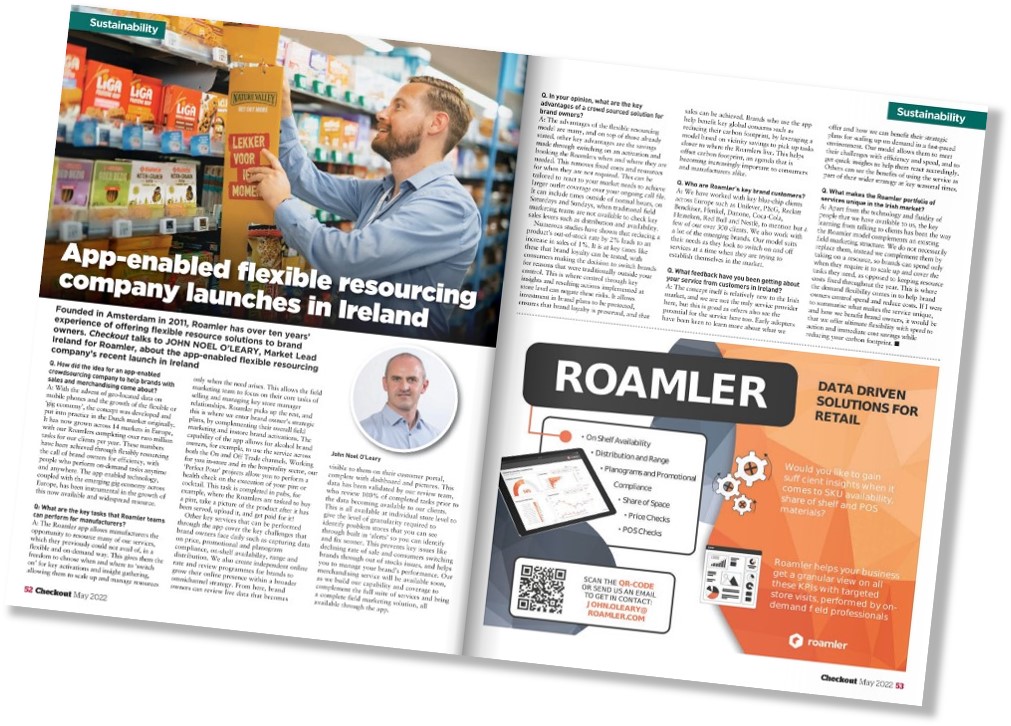 Would you like to know more about our recent launch in Ireland, and the possibilities for your business? Get in touch with John Noel via john.oleary@roamler.com.