Every year, spring shows the launch of innovations on the shelves. But the COVID-19 pandemia has partly changed this and has led many brands to postpone their innovations launches by a few weeks. Despite this particular context, with sales forces at home and overworked store staff, some innovations have nevertheless appeared gradually.

Discover at a glance the results of our study conducted in 200 major hypermarkets (Auchan, Carrefour, Cora, Géant Casino, Hyper U, Intermarché Hyper and Leclerc):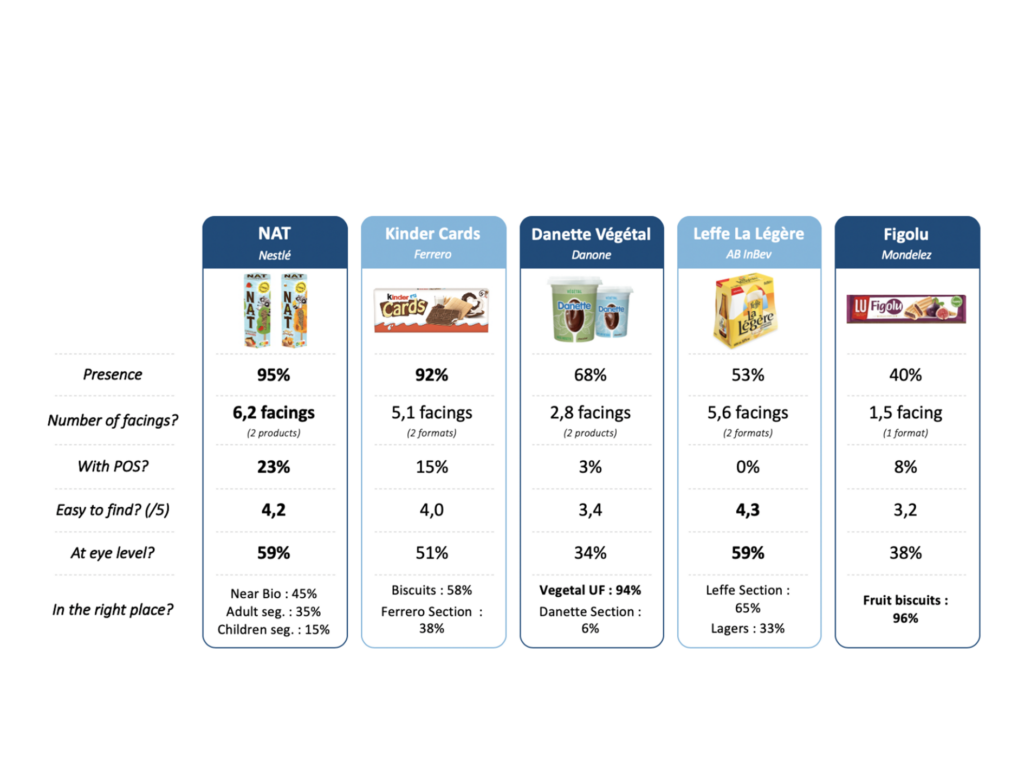 3 major challenges for all future innovations:
1. Ensure a good referencing
Despite the situation, Nestlé Nat cereal and Ferrero Kinder Cards biscuits have been found in almost all hypermarkets. On the other hand, there is still some work to be done in terms of distribution for Danette Végétal, Leffe La Légère and Figolu were launched a little later and not yet listed in all the hypermarket chains. While these three references were on average present in 7 hypermarkets out of 10 among the integrated, this rate falls to 30% among the independent stores.
2. Give visibility to your innovations
POS has been greatly impacted by the crisis and containment. Innovations were accompanied by POS in 30% of cases in 2019, but only 13% in 2020. The gap is higher for Ferrero.
Nestlé is the manufacturer that has installed most POS displays with shelf stops and/or NAT strips in 23% of POS holders. It should be noted that some brands, like Auchan, have taken over from the sales force by installing "New" shelf stops.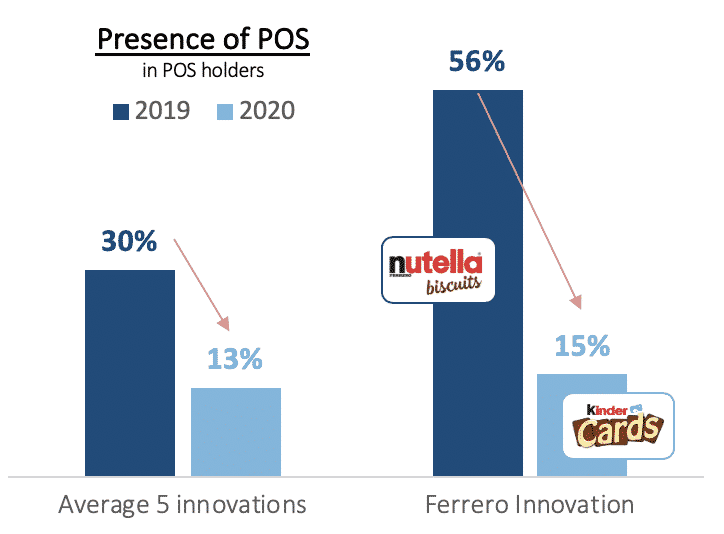 A good distribution is essential for a successful launch, but we should not stop at this only indicator. In-store execution is also a key success factor: an innovation that is not very visible on the shelf will be less bought by shoppers. And yet, among the 5 innovations checked:
– no facing at eye level in 50% of cases
– only one facing per reference in more than 40% of cases3. Position your innovations in the right place
3. Position your innovations in the right place
Nat cereals clearly target children, yet they are in the middle of adult cereals in more than a third of hypermarkets!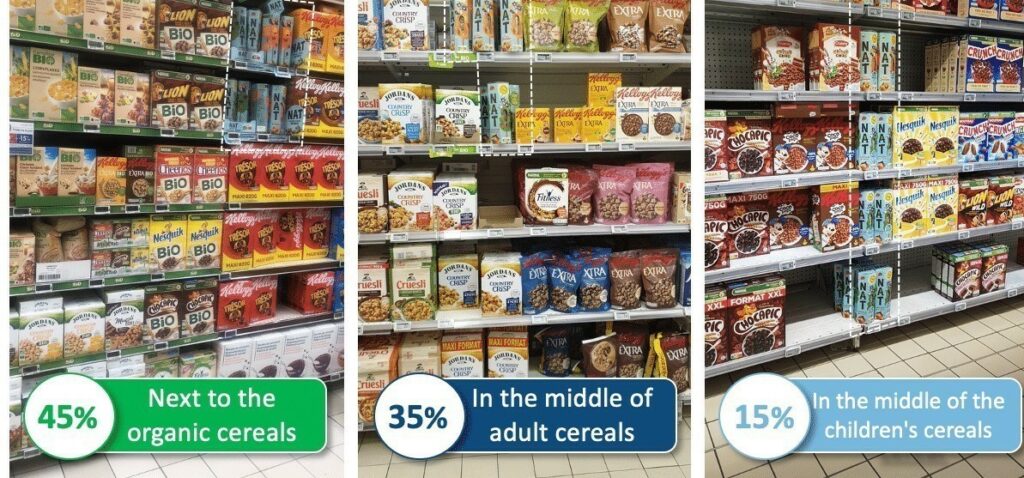 Same observation with Leffe La Légère: the objective of this launch is to enter the lager segment but innovation has only found a place in this segment in 1/3 of cases. It remains mostly within the Leffe cluster, where it appears to be the umpteenth variant.

For Kinder Cards, depending on the store, the biscuits are either placed in the middle of the biscuit section (6 POS out of 10), or grouped together with other Ferrero products (4 POS out of 10).
The issue of shelf placement is key to a launch, especially when innovations are aimed at a new segment, as is the case here. It is therefore particularly important to position them in the right place on the shelf to reach the right customer profile and to be able to meet marketing objectives.

This is a job to be carried out store by store because these disparities in configuration do not come from different implementation according to the brands. Whether it's for integrated or independent stores, we really find all the configurations!
Danone has been the most successful manufacturer in this issue, with its new Danette Végétal products correctly implanted in the Ultra-Fresh Vegetal universe in nearly 95% of cases. Only a few stores place products with the classic Danette.
For Figolu, options were more limited and the product logically found itself alongside other fruit biscuits in the stores.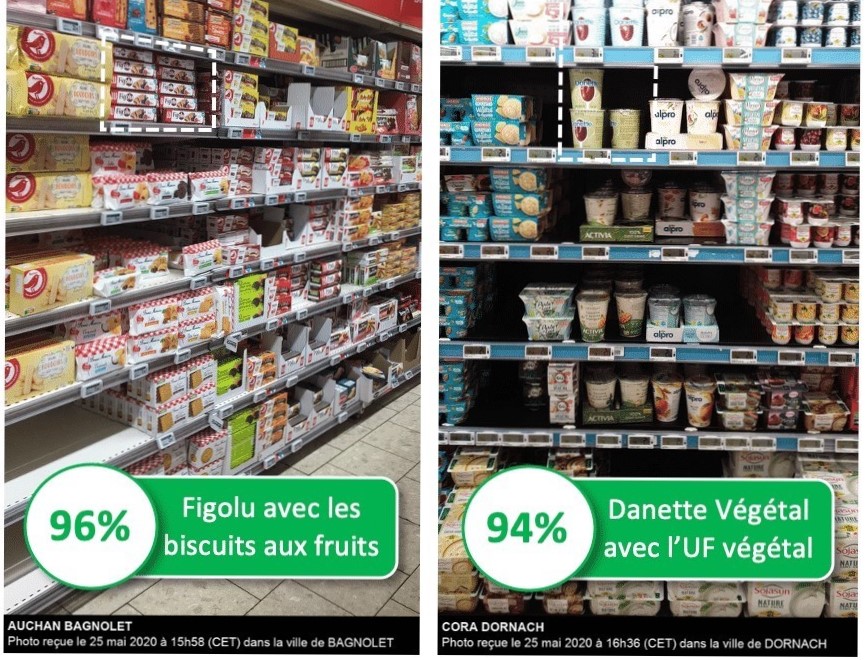 Good in-store execution is more than ever a must for successful launches!