According to our latest research 93% of European consumers enjoy a fast food meal from time to time.
Despite the fact that a rather small percentage of about 9% states to consume fast food "often", another 57% opts for a burger quite regularly and 27% does it "rarely". Only 7% of consumers state to stay away from fast food.
50% of Europeans choose fast food because of its taste. Other popular reasons include the convenience of eating "on-the-go" (45%) and the pleasure of occasionally "treating oneself" (42%).
Fast food is mostly consumed during dinner (69%), lunch (49%) and as a late night snack (34%), while breakfast seems to be a way less popular choice across Europe (6%).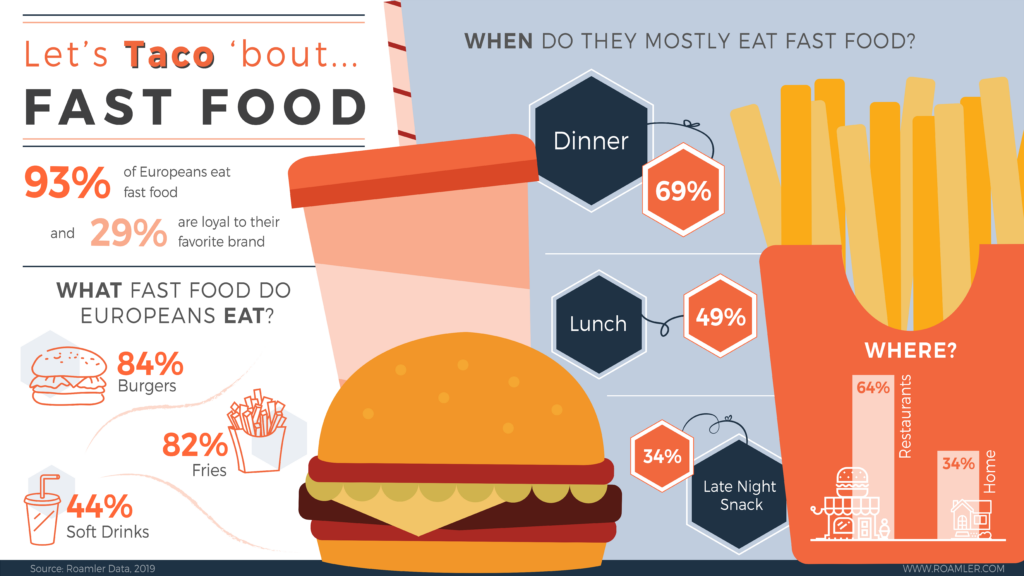 The findings presented in this infographic are based on the results of task submitted by the Roamler Crowd. The findings take into account data collected from 5.793 respondents, located in Italy, France, Spain, the UK, Belgium, the Netherlands and Germany.
Interested in seeing more inforgraphics?
– Infographic about bread
– Infographic about coffee
– Infographic about beer
– Infographic about ready meals
– Infographic about sunscreen