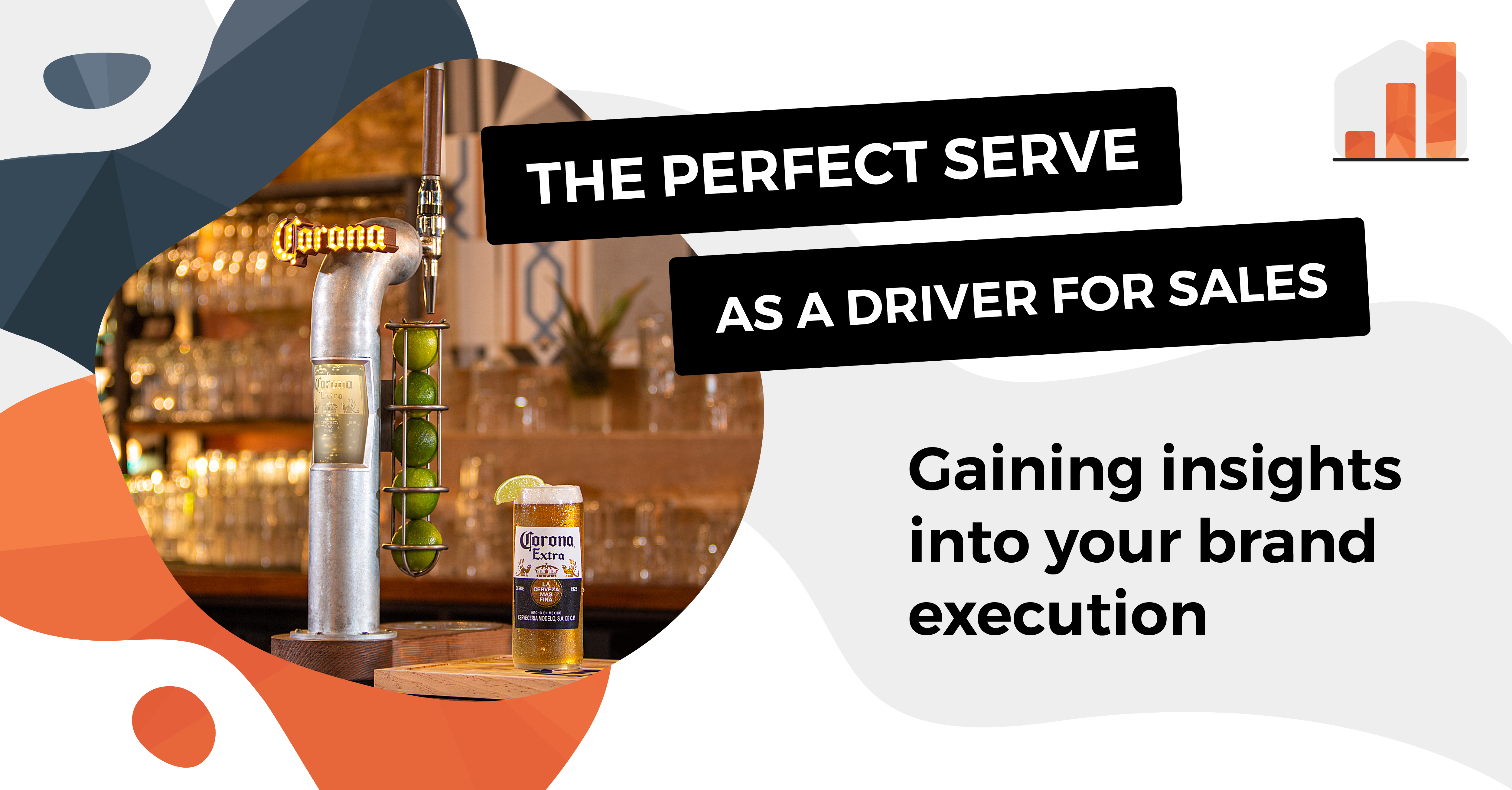 The perfect serve as a driver for sales
Gaining insight into your brand execution
Launching a product or brand offers opportunities, but it can also bring challenges when it comes to execution. As a business, you want to get quick and easy insight into retail execution to avoid missing out on sales.
The right presentation, foam, glass, and coaster all contribute to the "perfect serve." While the product brand designs the perfect serve, third parties (such as bartenders in catering outlets) usually carry it out. Unfortunately, due to lack of time, knowledge, or materials, the perfect serve may not be executed according to the brand's requirements. This is a missed opportunity, as Oxford University research shows that something automatically tastes better if it looks nice. Bars that consistently execute the perfect serve have more repeat customers and achieve an average sales increase of 21%, according to Red Bull research.
The perfect serve offers a lot of value for the brand, consumers, and the hospitality industry. But how can a brand gain insight into its execution? We'll explain using a case study from AB InBev, the world's largest brewing chain.
Checking
Following the launch of Corona beer on tap in pubs and bars across the UK, parent company AB InBev was looking for an efficient way to ensure compliance with the perfect serve in as many venues as possible. Checking all on-trade outlets themselves for the perfect serve is time-consuming and impossible for many brands due to lack of resources. An alternative option could then be to get quick and easy insight via retail execution, as digital platform Roamler does, for example. We send our European community of app users out as mystery shoppers to check out products in a bar, café or shop near them and take photos of the actual product presentation. This is how brewery chain AB Inbev finally gained insight into the execution of their perfect serve in the out of home (OOH) channel.
Was the beer served in the right glass? Did the bartender serve the pint with a wedge of lime? And is the lime wedge sitting on the rim of the glass? Mystery shoppers visited four thousand on-trade outlets in the UK to answer these questions about the beer served.
Would you like to know more about checking your product execution? Contact our experts!
Analyse
To ensure the perfect Corona experience was achieved, the mystery shoppers photographed their served glass of Corona and submitted their findings to the customer via Roamler's online portal. This allowed the brand to take quick action and ensure their brand of beer is served perfectly at every location. 'It was really important to have that real-time data and be able to analyse it with photos and evidence of what was found in the location. This allowed us to make the necessary corrections immediately and improve the execution of the brand,' said Warren White of AB InBev. The online portal consists of dashboards with an overview of key critical performance indicators (KPIs), a customer portal with access to location-specific data and photos, and reports for full insight into all data.
Increase sales
After analysing the reports, the brewery chain's sales team was able to identify bars and pubs with problems. To actually address these problems, the results were shared with the sales managers of these specific bars and pubs. Finally, these bars were revisited for an additional check to ensure better compliance with the perfect serve in these outlets as well. All actions ultimately resulted in a 76% compliance rate.
The retail execution additionally confirmed the aforementioned research results regarding sales increases. The insights gained on perfect serve compliance allowed the brewery chain to increase sales of their beer brand by 60% by improving their execution in bars. 'This methodology helped us tremendously in launching Corona on tap in this market. We will expand retail execution with other brands in our portfolio,' White concludes.
Checking your brand across Europe
Like AB InBev, Amsterdam-based watch brand Cluse had questions about the quality of their product presentation in shops after the brand expanded to six European countries. Retail execution checks of 220 new outlets spread across several countries provided the solution. The insights gained thus enabled the watch brand to optimise their merchandising strategy, based on the full overview of stock on the point of sale (POS) system. Corrective actions in shops could be carried out efficiently, making the brand's launch in new markets much more efficient and effective.
Get timely in store insights and make effective data-driven decisions when and where it matters. Learn more about it here.