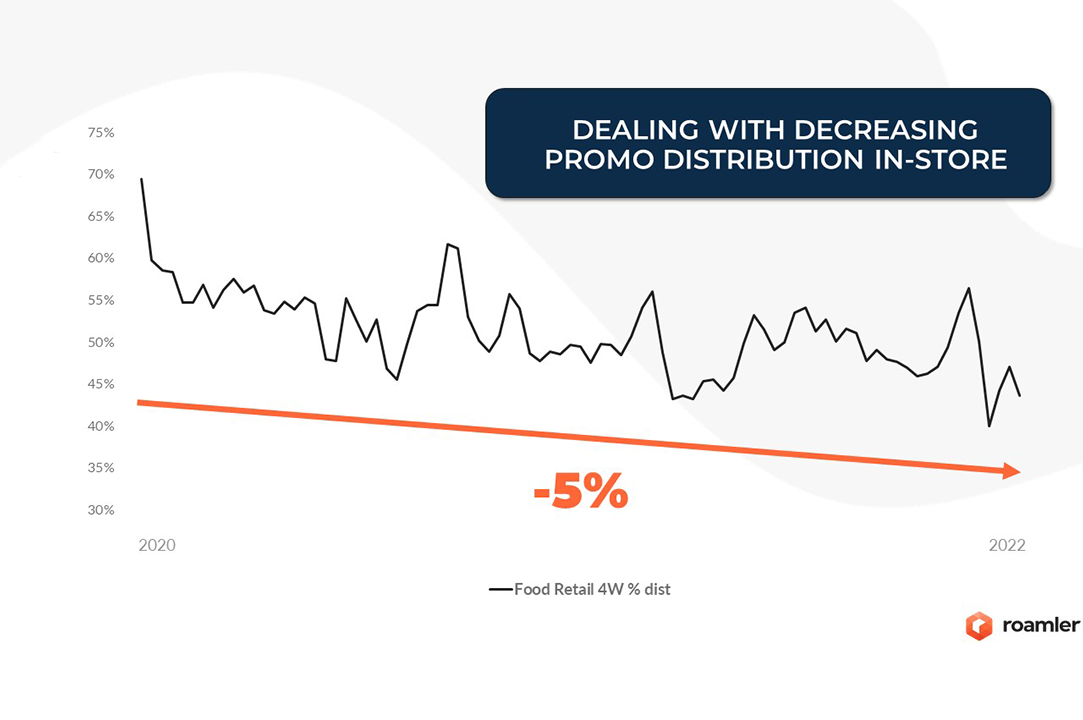 In-store promotions play a significant role in driving volume and market share in retail. Hence the need for FMCG brands to rely heavily on effective in-store promotional programs. Yet, it appears promotional investments are being charged at significantly higher rates, while in-store compliance of promotional agreements has decreased over the past two years.
Our data shows a 5% decrease in second placement distribution for Home Care, Personal Care and Food categories at three main retailers in The Netherlands. The importance of effective in-store promotions is apparent from the fact that improving promotional distribution with only 3%, can lead to 1% additional revenue¹.
The question here is; how to achieve this 3% improvement? Getting there is clearly not an easy thing to accomplish, as 90% of companies fail to execute their in-store promotional strategy². One of the main reasons for this is a lack of insight into what really goes on in store. This is why consistent monitoring, measuring and analysis of in-store implementation is key.
Getting data
Given the complex nature of this issue, Roamler started offering tangible businesses data through the multi-party Promo Insights Monitor: an online monitor that provides insights into the execution of in-store promotions of your brands, benchmarked with the category. In the monitor, Roamler tracks all second placement promotions for 22 categories in Home Care, Personal Care and Food. On a weekly basis, a representative sample of store locations per retailer is visited, with data delivered the week after. In doing so, Roamler measures product range, shelves reserved and shelves stocked per brand as well as promo mechanisms and distribution. This data is backed up with photos of every executed promotion.
Track, identify and correct
What are the main advantages of this approach? Through our Promo Insights Monitor, you can track on executional levels and compare them with retailer agreements, giving you a stronger position and an advising role in negotiations. Besides, it helps you explain the drivers of promotion effectiveness, by matching in-store results with sales uplifts, and by identifying opportunities on store level.
Bas van Herwaarden (Business Development Manager at Roamler): "Combining the Promo Insights Monitor with sales data has been the key to improving promotional strategies and getting better returns for investments at retailers."
However, monitoring and measuring is just the first step in the process of improving promotional compliance. Once you have tracked and identified distribution errors, it is time to correct these errors. This can be done in roughly two ways:
By linking data directly to your own field force.
By triggering direct actions through the flexible workforce of Roamler.
Bas van Herwaarden (Business Development Manager at Roamler): "The Promo Insights Monitor has helped businesses identify what regions have the best chance to improve. Based on the data, that's where field sales teams can be send during important promotions to create the best impact in-store."
Insights into own brands & competitors
The Promo Insights Monitor not only gives you insights into your own KPIs regarding distribution, quality of placement, communication, and SKUs; it also provides you with relevant information when it comes to your competitors. Compare and evaluate performances on product, store, category, promotion, and brand levels, in order to increase effectiveness and decrease missed revenue.
Would you like to know more about the possibilities with the Promo Insights Monitor? Get in touch with our experts!
¹Data retrieved from Roamler.
²Data retrieved from Deloitte.