Understanding the implementation of the category in-store is essential for a brand. It can help to understand differences in performance by retailer or to follow the evolution of the shelf or the offer. Roamler helps you to know the actual situation on the shelf, which is sometimes very different from the theory of planograms. In this article, we focus on energy drinks to illustrate some indicators we can help you to follow.
A wide range of products
Dominated by Red Bull, the energy drink sector has evolved considerably in recent years with the arrival of new players such as Rockstar (PepsiCo) in 2021 and V Energy (Suntory) in 2022. In the 150 hypermarkets analysed, we found more than 30 available brands, with almost 8 different brands per store on average!

There are almost systematically five main brands available (Red Bull, Monster, Rockstar, Crazy Tiger, V Energy) as well as private labels (available from all retailers). Smaller brands then complete the range, some of which are exclusive to certain retailers.
Strong disparities by retailer
The average energy drink shelf consists of 2 fixtures in supermarkets. Géant Casino stores have the largest shelves, while in Intermarché Hyper stores, the shelf is often limited to one fixture.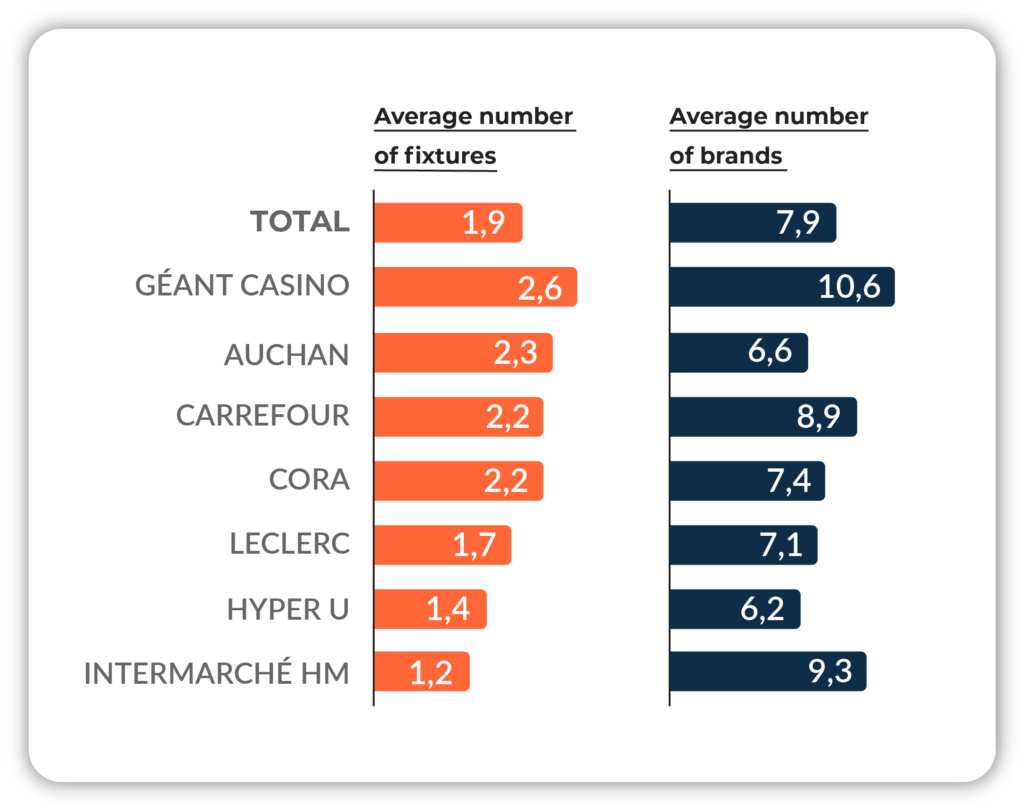 The size of the shelf is not necessarily linked to the width of the assortment. Despite its small shelves, Intermarché offers an average of 9 brands! On the opposite, Auchan has few brands, even though it has large shelves.

The signage, a lever to use more effectively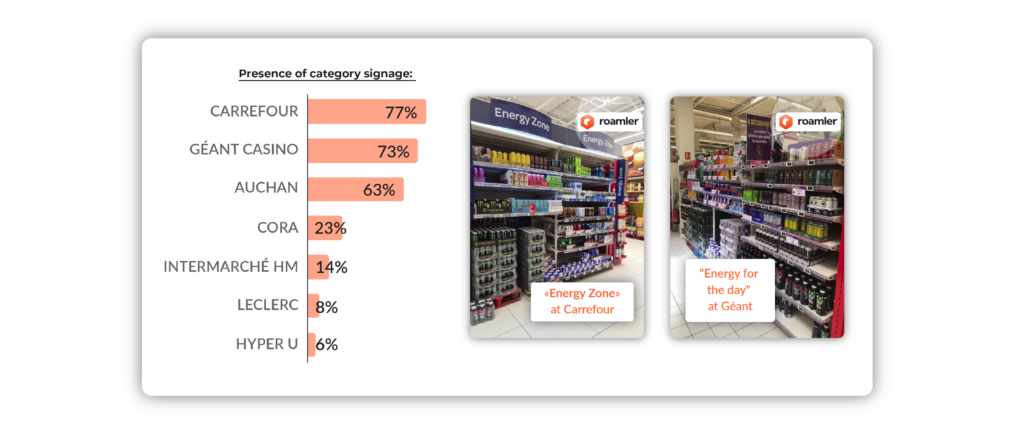 The energy drinks category is well marked in integrated retailers, except for Cora, but still very rare in independent chains. Branded POS displays are much more present. Stop-rays, display units, edge strips and other visibility tools can be found in around 2/3 of stores, whatever the brand.
Would you like to better understand the implementation of your products and your category on the shelf? Contact our experts!