Right after the holidays we might need a bit of a "clean-up". Al the parties, greasy foods and (alcoholic) drinks have taken a toll on our skin. Time for a night of pampering with a soothing, cleansing skincare routine.
We asked our large community of mobile users about their Facial Skincare routines. Think of face cleansing products, face creams, face masks and lip products.
Curious to learn more? Read all the findings in our latest Consumer Report.
SKINCARE LOVED MOSTLY BY WOMEN

Find below the top 3 reasons why men and women across Europe use and don't use facial skincare products.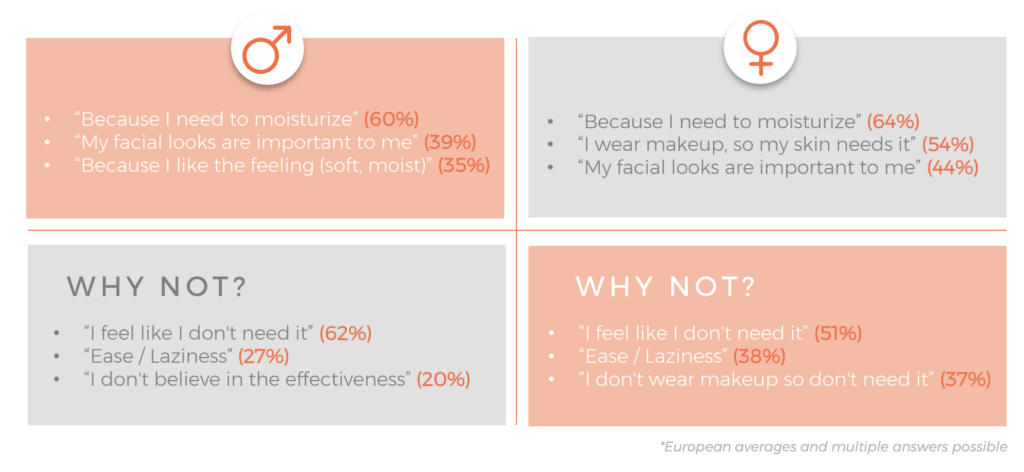 The most popular skincare product for both European men and women is Face Cream (men = 71%, women = 86%), followed by "Lip balm" for women (73%) and "Face wash" for men (48%).

FUN FACT:
In the UK "face washes" seem to be more popular for both women and men than in any other European country. 72% of women and 65% of UK men use it.
With 64%, Miccelair water is the preferred makeup remover for European women. The type of face cream seems to differ per gender, as women like to adjust their creams to the day or nighttime, and men don't.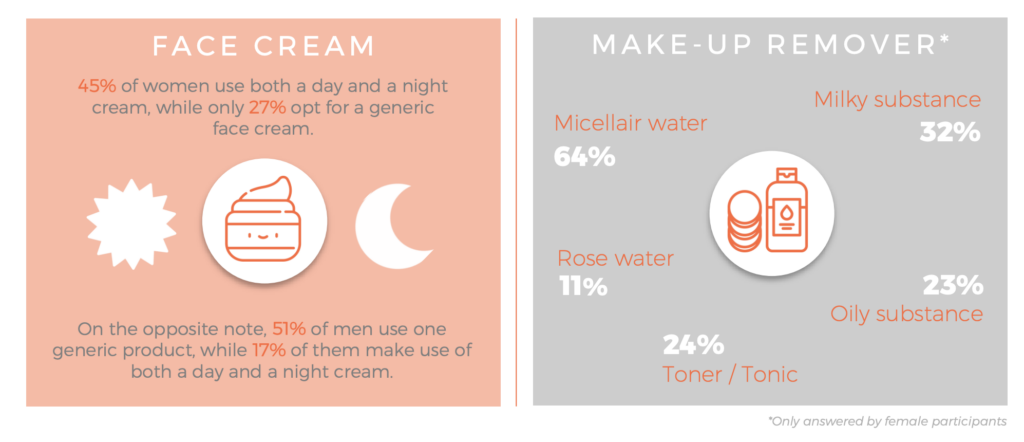 For both men and women, skincare should mostly be moisturizing (women = 75% and men = 68%). Women also opt for products for sensitive skin and with anti-aging properties (both 36%). For men, skincare being "softening" comes in second (29%).

FUN FACT
The biggest difference in preferences between genders can be found in looking for "SPF properties". 19% of women think SPF is important, whilst only 5% of men do so.
The majority of men takes care of their skin once a day (39%), while a smaller 21% does it twice a day. When it comes to women, about 45% states to use skincare products at least twice a day.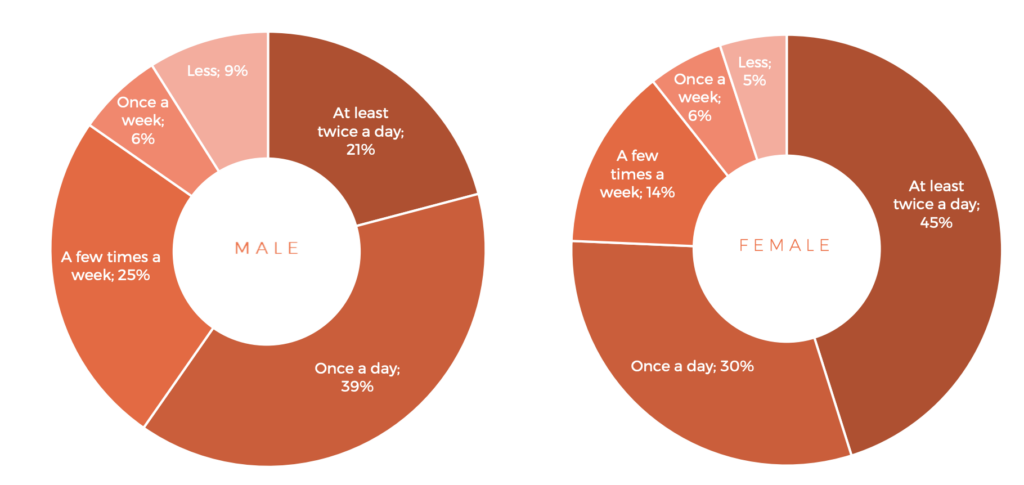 Both European men and women base their skincare purchase mostly on the price of the product (men = 55%, women = 63%). "Brand awareness" comes in second for men (38%), and for women the "claimed benefits" score a second place (42%). Women also tend to look into the listed ingredients more (40%, compared to 21% for men).

SHOPPING CHANNELS AND LOYALTY
About 67% of men buy their skincare products in supermarkets. Women, instead, shop equally in supermarkets and drugstores (53%). The online channel is also gaining popularity for both genders.

FUN FACT:
Both men and women are "somewhat loyal" to skincare brands (54% women, 48% men). Only about a quarter of all participants states not to be loyal to skincare products at all.
MOST POPULAR SKINCARE BRANDS (MEN)

MOST POPULAR SKINCARE BRANDS (WOMEN)

MOST POPULAR LIP BALM BRAND (MEN & WOMEN)

MOST POPULAR MAKEUP REMOVER BRANDS (WOMEN)

The findings presented in this report are based on the results of an investigative task submitted to the Roamler Crowd during the month of December 2019. The purpose was to determine the crowd's purchasing practices when it comes to Facial Skincare products. The findings take into account data collected from 6.613 respondents, located in Italy, France, Spain, UK, Belgium, The Netherlands and Germany.