When operating in such a dynamic market, in order to be succesfull and maximise ROI, brands need to know where their products are relevant to consumers and what to focus on at each specific location.
Roamler and Datlinq are the end-to-end partner for data-driven sales and marketing in the out-of-home market.
Having recently joined forces in the areas of data collection, insight creation and crowd-based in-store activation, Roamler and Datlinq are able to provide manufacturers with a full end-to-end data-led and technology-enabled route to market in Out Of Home.
Knowing where to go
Thanks to a combination of data coming from different online sources, including consumers' check-ins and reviews, Datlinq has built one of the biggest databases in Europe, containing more than 3 million OOH locations. This provides FMCGs with a healthy and unique overview on outlets' openings, closures and target audiences.​

"We are able to identify emerging pop-up zones in city centres, calculate the footfall in bars, cinemas or restaurants, and profile the typical target audience of each location. This way we can help brands go where their products are relevant to consumers." says Marco van den Ouden, CEO of Datlinq.
Datlinq's combined online data, is now enriched with millions of offline insights, coming from the field activity executed by the Roamler community across Europe.
Automating sales and marketing activities in the out-of-home market
The combination of Roamler and Datlinq gives brands the opportunity to fully automate their field activities in the out-of-home market by combining the best data sources and models, with a pool of flexible merchandisers and sales reps who can perform corrective actions where and when needed.
"For the first time in OOH we can enable brands in implementing data-driven sales and marketing strategies that meet the needs of their consumers, right where they are." – Says Jeroen ten Have, CEO of Roamler.

The Roamler liquid workforce can easily complement or replace traditional field forces, in order to to increase speed, footprint, efficiency and scalability, entirely on demand.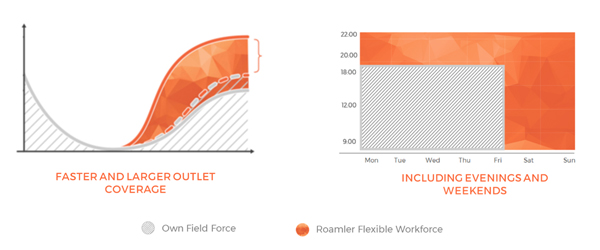 Would you like to know how Roamler and Datlinq can help you maximise efficiency in Out-of-Home? Get in touch with our experts.