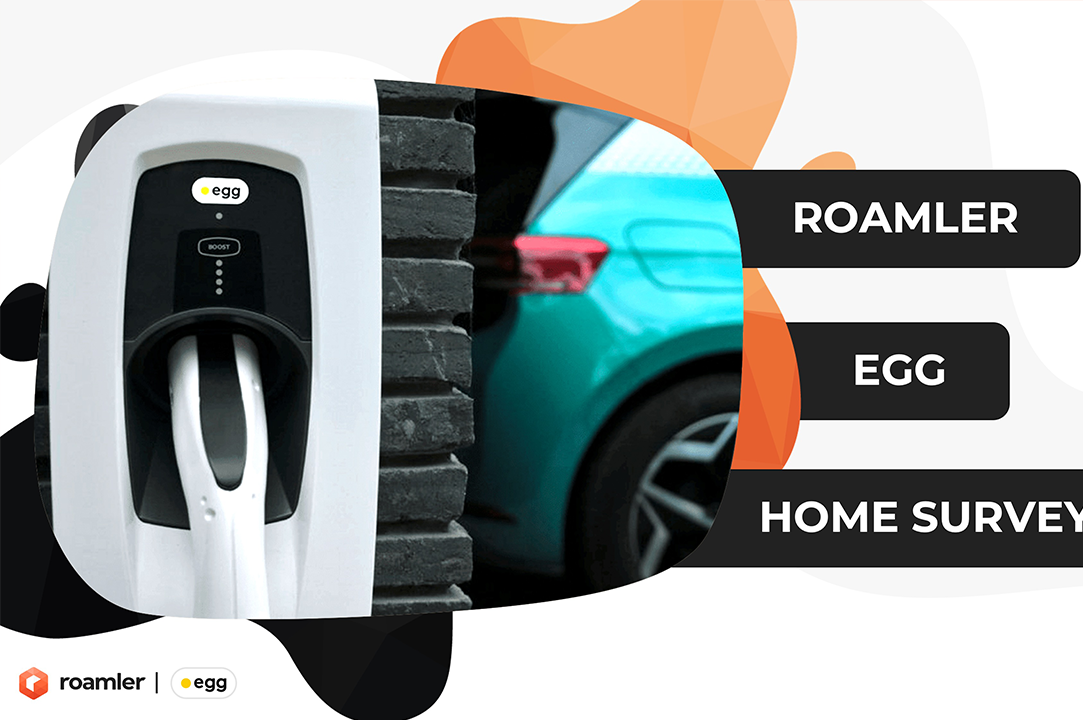 Roamler is proud to announce a partnership with Egg, a UK-based company that helps its customers make better, greener choices by offering a variety of in-home solutions. One of these solutions is its EV Home Charger, a best-in-class fast EV charger which is fully installed by Egg and includes a repair-or-replace promise for complete peace of mind.
Before a home EV charger can be installed, it is common in the industry for customers to have to complete a time-consuming and complicated survey so that the supplier has a full overview of the situation on-site. Egg knew that this survey is a frustration for many people, so it chose to make it as short as possible. However, many customers are still uncertain about conducting a home survey themselves, especially since most will be having an EV charger installed for the first time.
Creating a fuss-free survey process
One of Egg's beliefs is that people should be able to make better decisions, quicker. It wants simplicity to prevail and to take away the complexity for its customers. By partnering with Roamler, Egg has found an innovative option where customers can outsource the home survey to accurately gather all the information needed prior to installing an EV Charger.
Tash Horn, Head of Products & Experience at Egg: "Getting the installation right first time with no nasty surprises is so important for the best customer experience. In order for us to make sure that happens, we need information about the homes we are installing chargers in. Some of our customers are really confident in providing us this before their installation but others would rather we had a solution where they didn't need to do anything, taking all the hassle out of this process. That's why I'm absolutely delighted that we can offer just that with our partnership with Roamler, a convenient solution for our customers where we collect all the data we need. It's a win for our customers and it's a win for us!"
Community of independent technicians
Roamler will be working as Egg's installation survey partner by leveraging their community of independent technicians working across Europe. This pool of technicians will complete the home surveys, starting within specific regions in the UK. Roamler takes full responsibility for the results of every survey its community completes, ensuring Egg can deliver top-quality service, matching its desired customer experience.
Stephen Bridge (Tech Sales Director at Roamler): "We are delighted to be partnering with Egg, helping their customers on their first step into electric vehicle charging & sustainable driving. A step that can be time consuming and complex, leading to delays in installation or additional cost. Roamler have worked alongside Egg's brilliant team to design a pre installation EV home survey that takes away any uncertainty, providing the customer with absolute peace of mind that their EV installation will be possible without further intervention or delay. I am so proud of all the Teams here at Roamler who have made this possible and cannot wait to get started in November."
How it works
Customers looking to buy an Egg EV Charger can easily add the home survey service to their order. They choose a preferred date for an on-site survey, where one of Roamler's on-demand technicians examines the installation requirements. Roamler's pool of on-demand technicians offers them a wide range of options, with technicians being available 7 days a week, from 8am to 6pm.
The home survey service is expected to be launched in November this year for all Egg customers within the initial launch region including East & West Midlands, London & The South East.
Would you like to improve your installation processes, by utilising our on-demand technician workforce? Get in touch with our experts.