With this partnership, we combine the Roamler flexible and innovative approach to field marketing with Trax's proprietary computer vision platform, in order to provide an accurate snapshot of in-store shelf conditions.
This enables manufacturers in accessing real-time insights and in taking effective, data-driven decisions.
Unilever has been the first company to leverage the Roamler & Trax solution. Read about their experience in this case study.
Since the pandemic hit hard most businesses, deeply modifying consumers' shopping habits, manufacturers are called to quickly redefine their field marketing strategies.
With on-line and proximity channels constantly gaining terrain, and field forces constrained in accessing stores for data gathering and compliance checks, embracing the digital innovation is key to stay competitive.

For the past ten years, Roamler has been providing FMCGs and retailers with an additional field-force of trained auditors and merchandisers, activated entirely on-demand where and when needed. This cost-effective and flexible approach to extending traditional salesforces is now complemented with Trax's proprietary computer vision platform and machine-learning algorithms that ensure the highest accuracy of recognition, insights and intelligence.
This enables companies in maximizing the expertise of their field forces, by allowing them to dedicate their time in-store to sales, rather than gathering insights and images.

Speed, scalability and a quality rate of >98%
Traditional store insight collecting methods are usually carried out by brands 'employed field teams, who need to cover multiple channels across large geographic areas. This inevitably translates into slower process, higher costs and lost opportunities for growth for manufacturers.
By activating a workforce of on-demand auditors spread across Europe, FMCGs can add immediate speed to their field operations, scaling their capabilities in terms of footprint and volume, according to their specific needs. This flexibility, combined with DIR, relieves fixed field teams from gathering data and images, while granting, at the same time, an accuracy rate of nearly 100%.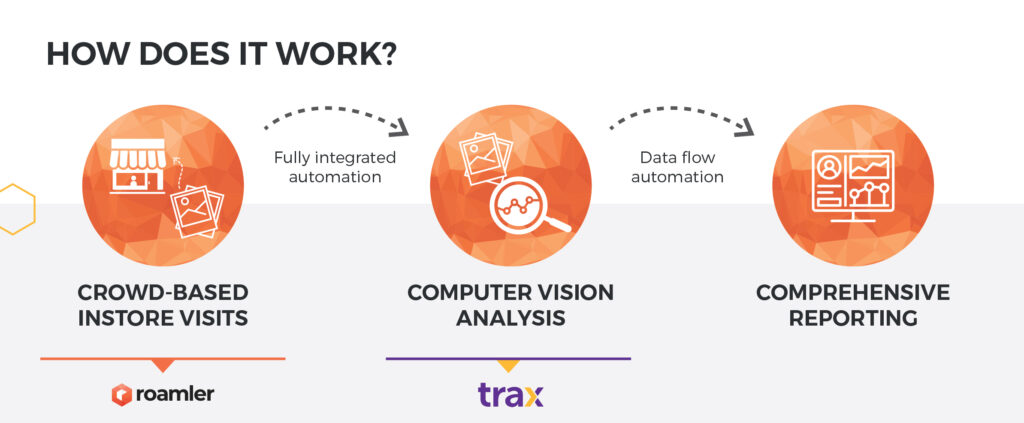 Furthermore, by getting direct access to timely in store insights, field teams can determine targeted actions for each visit, increasing their overall operational efficiency.

"With lockdowns and different restrictions being activated almost on a daily basis, brands are forced to deal with limited operational in-store time for field forces, and a lower ability to engage with shoppers." – Says Martijn Nijhuis, Roamler co-founder– "A traditional approach, where specialized resources are dedicated to the execution of relatively simple tasks, such as taking pictures, is no longer sustainable."

The integration of traditional field forces with the Roamler liquid workforce, activated and managed on-demand via the Roamler mobile app, empowers businesses with enhanced flexibility when it comes checking their in store execution. These benefits are maximized by the advanced solutions for sales automation provided by Trax, which reliably streamline data processing and allow professionals to access a full range of KPIs in a matter of hours.


"Together, Trax and Roamler offer CPGs superior value by providing a cost-effective, scalable and fully integrated store auditing service," said Karine Eloy, managing director for EMEA at Trax. "Our joint solution empowers companies to address issues affecting retail execution and product availability quickly and efficiently."

The joint proposition made available by Roamler and Trax is designed to help CPGs decision makers to keep full control over their resources and process, in order to allow them to constantly rethink their route to market and prioritize the channels with the biggest opportunities.
To know more about the Roamler and Trax joint solution click here

To read how Unilver optimized its operations in Belgium and Italy, download the complementary case study.
To discover all the benefits of this joint solution for your business, schedule a virtual coffee with our experts, Martijn and Dave.